Where does time go? Honestly.  Let us begin with a look into the mind of yours truly.  I can't begin to express how proud I am of Emily. She is a phenomenal mother – better than I even envisioned she would be (and I had high expectations). I don't know how single parents manage to do it but I do know that I could not do it without her.
Moving on, James is such a happy babe.  I love and cherish those special moments – that first time I open the car door when Emily arrives home from daycare. Like clockwork, he gives me a glance followed by that big toothless smile .  Come morning time, sometimes James will entertain himself alone in his crib and I can sneak into the room, peer through the side of the crib and surprise him – big smiles.  Even that special time early Saturday mornings where we just hang out in bed, the whole fam damily. I just love being a parent.
Ok, enough mushy mushy. Here are some adorable pics of JD at 4 months:
This goes without saying but, I love visits to the EauC.  Dori always has the gluttony corner packed with cookies, bars, and all kinds of goodies and when we're not sugar bombing, we're typically going mow town on Whiskey's fish fry.  It's so relaxing to hole up in the basement, watch college football all day Saturday, then do it all over again NFL Sunday style.
It was in the EauC that I got to meet beautiful baby Julia for the first time.  I took some pics of her and JD:
PopPop turned 59 in September. One year away from that big ol six'er. Watching my Dad interact with James is one of my favorite things. I like to think it's a glimpse of him 30 years ago when I was just a young ankle-biter.  Pics here:
The Annual Great Oaks Drive Chili cook off was a smashing success.  It was a little chilly for James but he snuggled mom closely in his papoose. We didn't win this year but our chili got mad votes.  Afterwards we took the party to the Charlton garage bar and turned it up to eleven.  Good times were had but I didn't get any chili cook-off pics, just more cute babby pics.
Who is the most adorable oatmeal bear evar? I'll answer that question for you… no I won't, you already know the answer.  It's wierd how life is cyclical.  Now Halloween is fun again.  Why? Dressing James up in goofy outfits. As a parent does it get any better?  For Halloween, once again we found ourselves at the Charlton bar, handing out candy, tippin' back grandpas cough syrup, and having a good ol time.
Party-wise, this year auntie Alicia came over while Emiliy and I went to a Halloween party at Blake and Kara's. I didn't take any pics of the party but guess what I did take pics of??!?! I know, it's starting to get obnoxious. Sue me.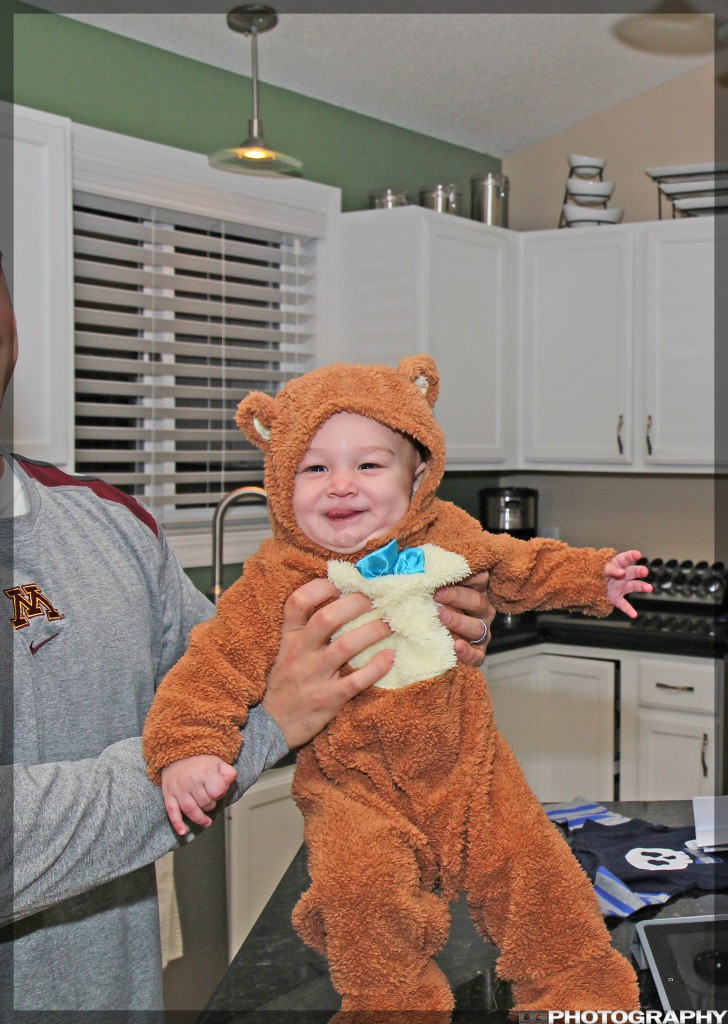 I want to close out the post with the biggest news of the year. Alicia and Adam are engaged! I could not be happier to have Adam as a future brother in law and the excitement of planning a wedding has already commenced. Goon / Fronius family expansion +++ Buckle up!